The past 2 Journal entries have covered various experiences and literary pieces devoted in one way or another to the forever subject of Life after Life. This Journal continues with an exploration of a most unique afterlife study category known as instrumental transcommunication, or, ITC.
Before I launch into a description of ITC research I would like to register a few thoughts about our healing journey in the context of the meaning of the terminology I use called Haelan LifeStream. This is the terminology of the name of this website and health model,which was designed to assist healing in our earthly lives and in our lives after we leave earth life.
Healing in the Stream of Life…in this life and in our life after life
I refer to the concept of life, and life after life, and life anew, as LifeStream. I put the Old English term Haelan in front of the term LifeStream, and came up with the name of a learning process for my own consciousness. In my own life growth process, I am therefore practicing a model which I can explore, develop, and share with others; a process to help other people's life growth. I call this model of body-mind-emotion-spirit study by the term Haelan LifeStream.
Haelan is the root word for the current day words "heal, whole, holy, holistic, and hologram." LifeStream rounds it out by signifying the eternity of our living Consciousness, which goes on and on beyond time and multidimensional space. As we become intimately familiar with the mystery workings of our own heart, we begin to see rightly.
Based on a study of my own life and health as well as that of thousands of patients over the years a model was developed consisting of a hierarchy of 6 elements of study and practice. Imagine an equilateral triangle with 6 levels. From the bottom to the top the levels of study and practice are: nutrition, exercise, mental and emotional clarity, self love, spiritual awareness, and vision work.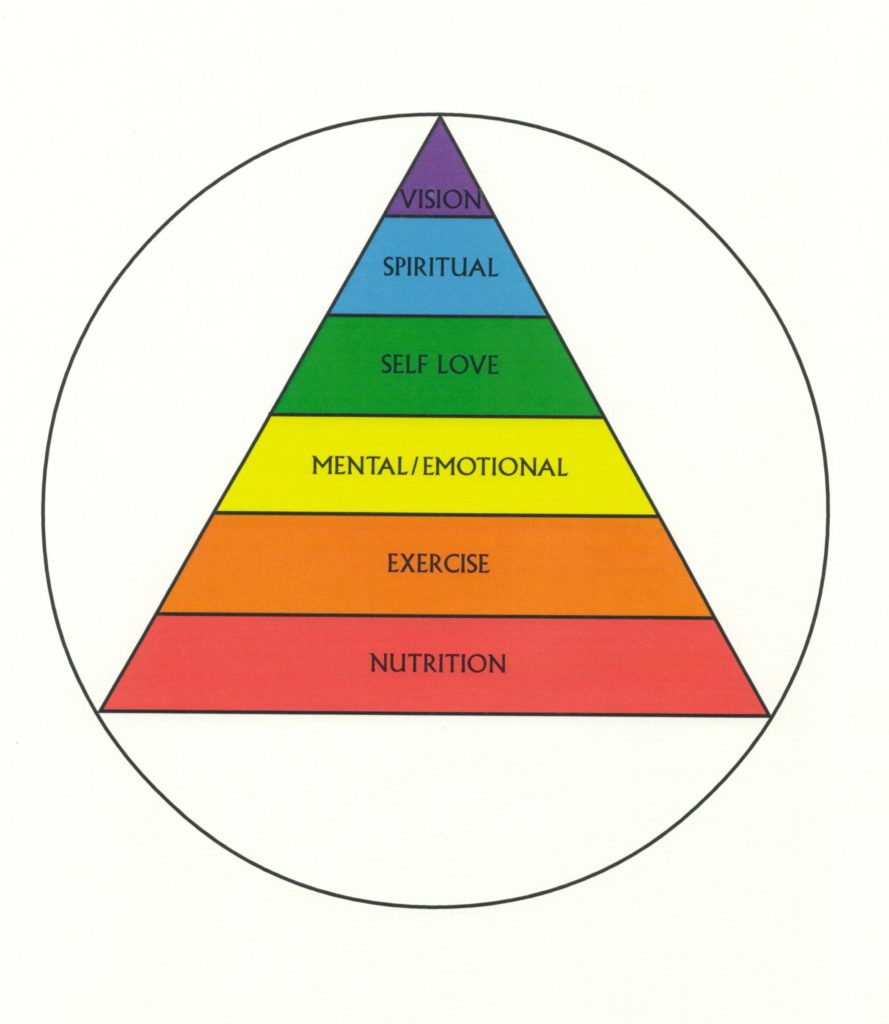 The central organizing process of this model is Self Love. A healed heart is a healed life. As the great recent Indian teacher Bhagavan Nityananda taught us, "The heart is the hub of all sacred places. Go there and roam." This is a good message about the infinite mysteries of Creation that live in our hearts. The Haelan LifeStream model addresses the healing that goes on forever in a larger scheme of consideration than that which we usually consider inside of the ordinary and mundane space time continuum of our daily lives.
The heart is the central organizing intelligence of the human. It is the processor of our entanglement in the infinite multidimensional matrix of Creation. A happy heart is a healthy heart, and a healed heart is a healed life.
The evolution of a healed life is a life long process. Much good can come from any effort whatsoever which one may extend for one's own betterment. Such an effort will spin off into the hologram of time past, time future, and time Now. Such an effort will also spin off into the lives of others.
Our lives are a continuum through our pre-birth spiritual existence, our uterine existence, our post uterine existence, and our reemergence back into our afterlife spiritual existence. These are the major milestone chapters of our ongoing and ever evolving spiritual journey. It is helpful to contemplate one's own understanding of this healing continuum.
Haelan LifeStream has a tetrahedral orientation also; as in 4 equilateral triangular sides arranged together as a tetrahedron. The tetrahedron is the simplest shape that can exist in 3 dimensions. Something must have at least 4 points to have physical reality. The triangle structure is nature's only self stabilizing pattern.
Each face of the Haelan LifeStream tetrahedron has the same 6 layers of study. This more comprehensive and ambitious tetrahedral model addresses: 1) our individual lives, 2) our lives as citizens of Earth, 3) our lives as citizens in a Universal array of other civilizations, and 4) our lives in the Life After Life dimensions. These 4 points of consideration and evolution attempt to complete the holos, or hologram, of our more complete reality.
In the New Testament of the Christian Bible, the mystery of our reality is expressed in the Greek term logos…unconcealed truth. The usual modern day wording of the first line of the Book of John is, "In the beginning was the Word, and the Word was with God, and the Word was God." The original Greek term used for Word was Logos. He who knows the logos, knows the truth.
The Haelan LifeStream model addresses the human quaternary of body, mind, emotion, and spirit. It is designed to be consciously carried into spirit life beyond the veil. In the higher astral realms of Light, the same healing principles apply in the continuing evolution of our lives in our new Light body form.
Life on Earth is life in a classroom extension of heaven. Life on Earth and life in the afterlife realms is a seamless continuum. Despite the travails and pain of living on this plane, Earth is really just a part of heaven. One only has to be able to deeply appreciate beauty in order to understand this concept.
As Gandhi said, "We must be the change we wish to see in the world." All healing starts with the individual. That is who we must take care of first…our individual lives…in this lifetime, and in our lives to come. Such attention to our precious lives will be our best contribution to the health of the world.
Recap of Study Categories of Life after Life, Part I and Part II
So far, on the subject of Life After Life we have covered the writings of Emanuel Swedenborg, (and I also mentioned Edgar Cayce as a parallel type of prolific fountain of the extraordinary), the Resurrection of Swami Sri Yukteswar, some examples of NDE/OBE, back channeled books from Spirit side informers to Earth side writers, channeling by mediums, and one book by Deepak Chopra, Life After Death, the Burden of Proof.
This listing and coverage of afterlife studies is an incomplete one, but it does provide the reader with some possible starting points of interest for one's own study. There have been many other kinds of descriptions of Life after Life from many people of many cultures and spiritual paths who have lived over the course of time on this fascinating and intriguing body of knowledge.
Some have said that we really don't know what life is until we know what death is. I think these well intentioned prognosticators were trying to say that we live more fully when we release our fear of death and dying. If one's thinking and feeling moments are tied up with the fear of death, then how can one really live life fully?
Now we conclude this series of entries with the story of one man's spiritual journey, and his fascinating and timely discoveries.
Mark Macy…a Recovery of a Wonderful Life
I met Mark Macy and his wife Regina in a hospital room on the second floor of Boulder Community Hospital in mid July of 1988. That would be 21 years ago now. Mark had developed a complete large bowel obstruction from a colon cancer in the distal transverse colon. He was gravely ill, in tremendous discomfort from the abdominal distention, and he appeared septic. In common parlance, he was very near death, but still not so close to releasing his spirit that we had no recourse. We moved along quickly in a closing window of time.
After a cursory introduction of myself to these 2 nice people, and an even more cursory physical examination, we went down to the operating room where much of his colon was removed, and the requisite intestinal conduit rearrangements were facilitated without the need for a colostomy. Surgical considerations aside, Mark went on to an uneventful postoperative recovery.
Well…that last statement is not entirely accurate. He went on to a recovery which is the most remarkable and meaningful recovery of a life that I have ever witnessed or been a part of.
Prior to the illness, Mark had written a book entitled Solutions for a Troubled World (Earthview Press, 1987). He was the organizing editor and author of this text which he compiled from the writings of well known experts from all over the globe. The chapters by the various authors embraced manifold solutions to help set right the many issues on our planetary home, and offered solutions to the problems humans are causing on Earth.
One of the chapters in "Part Three: Transformation," is entitled "Peace, Beliefs, and Legitimacy." This chapter was written by Willis Harman, now deceased, but at the time of the writing was president of the Institute of Noetic Sciences (IONS), founded in 1973 by astronaut Edgar Mitchell. The IONS mandate is to expand knowledge of the nature and potentials of the mind, and apply that knowledge to the advancement of health and well-being for humankind and Earth. This association with Harmon comes up again.
In the post operative recovery Mark presented me with a copy of Solutions for a Troubled World, and wrote a very touching and heartfelt note on the title page. After recovering from reading his note, I looked through the book, noting its breadth of insights, and offered Mark a comment that went something like this, "Mark, I think you better heal yourself before you try to heal the world." This was my iteration of the Call of Gandhi, "We must be the change we wish to see in the world."
He took my words to heart, and came out with another book in 1991, Healing the World, And Me. The prologue is written by Bernie Siegel, M.D. This book is another compilation from thinkers all over the globe, and Mark serves as organizing editor/author. "Part I: Healing Our Lives" has a chapter written by Mark entitled "Crisis as a Turning Point: What Sickness Taught Me About Healing." This chapter is all of 18 pages long and it reflects a maturing insight inside of the life of a 38 year old recovering agnostic.
Mark's journey since writing Solutions for a Troubled World in 1987 opened his heart to other types of considerations of how to heal the world, and himself. He thus began his spiritual journey from the consciously conscious perspective. He knew that he was now aware, and he wanted to know more. Mark had actually written another book before the publication of Solutions for a Troubled World.
He told me about this book only a few years ago, and he gave me a copy. This book is Last Chance for Peace, and was penned under the name Arthur Vance. It is an excellent treatise, quite broad in scope and coverage, and served Mark as a springboard towards his future unfolding writing journey which has been revealed in the evolutionary process of all of his books, now numbering 7. His most recent publication is brand new, The Project.
The Project brings Mark's work into a circle of fullness. In this book he rounds out an initial cycling of far reaching reconsideration of who we are, and how the Earth Project came to be, and how we should wake up to positively assist Earth's life giving process.
After the publication of Healing the World, And Me, Mark went through a deeper transformative process. In a monograph entitled "Long Distance Calling from the Afterlife," which he wrote after the publication of his 5th book, Miracles in the Storm, Mark reflects on his journey thus: "In the mid 1980's, notions of God or afterlife were the farthest thing from my mind. I was immersed in world affairs, contacting leading thinkers from different countries and weaving their best ideas into a series of books, the first being Solutions for a Troubled World. Then, in 1988, I was diagnosed with colon cancer, and my world was turned upside down. For the first time in my life, there was a small voice inside of me crying out for some kind of reassurance that if I died, there would be some part of me that would live on. I'd always been happy knowing that my son and my writing would live on after I died, but now, with death staring me in the face, that just wasn't enough. I simply did not want to die because that would be the end of ME."
"Still, my rational mind wouldn't buy any notions of afterlife on faith alone. I didn't want to delude myself with wishful thinking. I needed some sort of proof or good, solid evidence, so after my life was saved by emergency surgery which successfully removed the cancer, I embarked on a quest to find that proof-to determine what really happens to us after we die. Meanwhile, I compiled another book-Healing the World, and Me (Knowledge Systems, 1991)-and I traveled around the country speaking at conferences on systems healing. I was trying to find principles of peace and well-being that would be as true for cells and molecules in the body as for people and products in society. On the surface I was still interested in world affairs, but inside I was churning over the question of afterlife."
"Long Distance Calling from the Afterlife" continues as a fascinating quick story of his introduction to the world of ITC, or, Instrumental Transcommunication, an advanced form of spirit communication through technology. Mark had discovered individuals scattered across the globe who were researching and documenting contacts with Spirit side beings via technological instrumentation. He became associated with the group, and soon served as their main organizing spokesperson. His concerns about the afterlife were soothed as he experienced the wonder of these contacts.
Through his prior association with Willis Harmon, Mark published an article in the IONS magazine in the Spring 1993 edition entitled "When Dimensions Cross." Harmon prefaces the article with a well worded series of paragraphs, beginning thus: "The phenomena described in this article, purported high-tech communication from beyond the grave, may seem too preposterous to be taken seriously. I will readily admit that the data are highly controversial, both as regards their existence and their interpretation. We have been following this work for a number of years, and for a long time felt that it did not merit reporting in the Noetic Sciences Review. That we now reverse our policy and tell the story comes about because of several factors…"
Harmon then goes on to explain that the data continue to accumulate, and that he feels confident that the data are honestly obtained. Harmon admits that he does not know how to interpret the data, but, "we feel compelled to recognize their existence." Mark's 4 page article in the IONS magazine is a gem in the history of ITC. This paper, and the one which followed Mark's 5th book, Miracles in the Storm, are fascinating enough, and represent short form summations of the chronicles which followed, namely 2 other books.
The first is a short treatise entitled Conversation Beyond the Light, With Departed Friends & Colleagues by Electronic Means, which he coauthored with Pat Kubris ( Griffin Publishing, 1995). Edgar Mitchell, who was a member of Apollo 14, the third manned lunar landing, summed up Mark's work thus, "The consciousness of man has an extended nature, which enables him to surpass the ordinary bounds of space and time-suggesting that there is another dimension beyond the material world."
Mitchell should know as he is now a proponent for Disclosure of Extraterrestrial Intelligence, having experienced some unusual phenomena on his space voyages. He was forever changed into the conscious leader that he is today.
A separate companion book surfaced which was authored by some of Mark's research colleagues in 1997, entitled Breakthroughs in Technical Spirit Communication (Continuing Life Research), authored by Dr. Theo Locher (Switzerland) and Experimenter Maggy Harsch-Fischbach (Luxembourg). These 2 books take the reader into the history and technical considerations of the researchers.
In 2001 Mark wrote his second book on the subject of ITC, Miracles in the Storm, Talking to the Other Side with the New Technology of Spiritual Contact (New American Library). This book was a page turner for me, and I viewed it as Mark's spiritual autobiography. I quote from the back page of the binding: "Mark H. Macy was an agnostic until a brush with death set him on a spiritual search in the 1980's. He learned about the miracles of ITC-personal letters planted mysteriously by invisible hands, images from other realms flashing across TV screens, and actual phone calls from angels. And when a voice from Beyond came through a radio with a long, personal greeting, Macy's skeptical mind had the proof it required to believe."
"Joining a small group of researchers, Macy dedicated his life to fostering the ITC connection. But he and his colleagues did not just discover paranormal contacts with departed loved ones. These revolutionaries in electronic spiritual channeling made contact with angels and even higher entities who brought them one step closer to comprehending the very meaning of life and death-and helped them find peace in the 'storms' of negative thoughts, words, and actions on Earth."
Introductions on the inner front page include positive commentary from the likes of William Tiller, Ph.D., Professor Emeritus at Stanford in Materials Science and Engineering , and Uri Geller (www.uri-geller.com). In the face of the prior 2 Journal entries I have made on this website which deal with the literature and theories of Life after Life, I heartily recommend Miracles in the Storm to you.
After Miracles in the Storm, Mark shifted gears slightly and began to pursue his own research, which was an extension of the ITC work. He began to experiment with Polaroid cameras and a Luminator, a device which alters energy field frequencies in the local vicinity such that unusual pictures can be captured with a camera on film. I won't reveal too much more save Mark's opening commentary on the front binder: "One hundred years ago, if someone told you that someday people would be able to exchange pictures instantly with people halfway around the world, you'd probably have thought they were crazy. It's mainstream. Today I'm saying that people will someday be able to exchange pictures instantly with people in other worlds of spirit…and that someday is now."
In 2006 Mark published his 6th book, Spirit Faces, Truth About The Afterlife (Weiser Books). In this book of wisdom we get to consider another treatment from Mark's evolving consciousness on the subject of our spiritual life, and beyond. We also learn about another form of research into Spirit life and how it interacts with us in our space time world of daily life. Furthermore, there are some 50 color photos taken with Polaroid film showing how the Luminator device displays overlays of Spirit beings in our proximity.
The book is pretty intriguing in regards to the technology and pictures, but moreover it is an extension of wisdom accumulating in the consciousness of a spiritual being, the author. Mark was on track to bring his 2 decades of learning and growth as a human and a successful writer, speaker, and teacher into the full circle of where he had started—healing the world.
The 7th book brings a cycle of completion, and is entitled The Project. Have you ever known about the mysterious collection of a large amount of space debris which exists between Mars and Jupiter? It is called an asteroid belt by the astronomer types. How did it get there? Did all of the massive chunks just fly in from somewhere? You can web search the word "Marduk," and try to connect all of these fascinating dots.
I suggest a reading of Mark's most recent book The Project. You will learn some important and timely information about our ancient heritage as a race of humans on this planet. Why does Mark call this book The Project? Are we a Project? Can we continue with the Project?
To date, Mark Macy has done the world a great service by the journey and seeking he has been doing since before the crisis in his life in 1988. Although his name is (thankfully) not in the mainstream press, you may benefit from knowing about his life, and his body of work. It is a service to humanity.
Mark is the creator of 2 sister websites. I refer you to Mark's description of these 2 websites…
Macy Afterlife: The Beacon…"contains all things spiritual, including timeless truths, a road map of the spirit worlds, and vivid descriptions of paradise communities where most of us will awaken after we die. There are insights here that were never before shared with our world. I promise."
Noble Savage World…"lets us examine ourselves, our groups and our world more deeply than ever before, largely through a spiritual filter… revealing the greater truths and principles that move restlessly beneath the surface of human affairs… shaping our noble-savage behavior and boiling over into our social systems."
"The two sites share some of the same articles that span life and afterlife, including The Human Story collection… but for the most part each site keeps its focus neatly on the appropriate side of the veil."
Concluding remarks…
I always say to ill clients, "Disease is just the beginning of the healing process." That is what this Journal entry is about. Being so healed, we bring that to the world.
In the next Journal I want to set some perspective on December 21, 2012, the Mayan calendar, and put forth a perspective about the correct future memory choice point for us to embrace about the phenomenon.
The negative spin on 2012 will bombard us, and so get ready for that negative spin, and ignore every bit of it. Fear mongering will abound. Do your own research.
Signing off from Crestone and Beyond
Additional Reading: