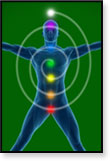 The Haelan LifeStream Center offers tools for healing, evolution, and growth in any consideration which one may have in the areas of body, mind, emotion, and spirit. The evolution of healthy lifestyle choices and growth in these 4 elements of our being is developed through a shared dialogue which is conducted around the patient's chief concerns.
Almost all patients come for my services because of physical complaints, medical industry diagnoses, and troublesome polypharmacy regimens. In the course of addressing these concerns, and helping with the distress associated with such physical complaints, the patient's deeper concerns of mind, emotion, and spirit are brought into awareness.
Haelan is an Old English word from which is derived the present day words "heal, whole, holy, holistic, hologram," and other related words. LifeStream is terminology which signifies our ability to heal our past and future by how we practice health and life growth in the present.
The Haelan LifeStream model of health enhances healing and growth in the quaternary of body, mind, emotions, and spirit through the development of awareness, understanding, choice, and accountability in 6 key areas of health study and practice: nutrition, exercise, mental and emotional clarity, self love, spiritual alignment, and vision work.
Heart based consciousness is important in this learning process. This is developed through ongoing life practices of forgiveness, non-judgment, self acceptance, self love, and the development of biological heart resonant frequency, which is 0.1 cycles per second. Knowledge of the heart's neuromuscular pumping function is expanded into an understanding of its other dynamic, life sustaining, and life expanding roles.
A biofeedback interface is used to demonstrate and train clients in heart resonant frequency attainment. When our hearts are in resonant frequency, we feel calm, we can access higher cognitive and intuitive abilities, we can access higher emotional states, and our hearts can entrain other hearts to this frequency via quantum field effects. An awareness of the heart's more extended physiologic and electromagnetic functioning is foundational to understanding how we manifest a healthy, happy, and evolving life process.
In the healing of faulty belief patterns which no longer serve us in our life, we allow conscious choices which are in alignment with our primary motivators, passions, gifts, and individual spiritual path. The brain begins to serve the heart instead of overriding it.
The manifestation of our life gifts, passions, purpose, and dreams is acquired through the healed heart.
Haelan LifeStream can assist the client who wishes to:
Maintain and enhance one's current level of health.
Incorporate a personal and graceful "anti-aging" program, as well as any other type of biochemical healing program. Some examples are: weight loss, more energy, detoxification, gut chemistry health, bio-identical hormone replacement, neurotransmitter and hormonal balance, and many others.
Utilization of genetic testing for specific mutations and applied nutrigenomics to gain biochemical balance in both health and disease. This practice, now known as Personalized Medicine, embraces the sciences of personal genomics, nutrigenomics, and pharmacogenomics.
Expand knowledge gained from other holistic modalities.
Improve conventional, medical-based outcomes with any disease state.
Wean deleterious pharmacy or polypharmacy regimens by developing and substituting healthier lifestyle choices, practices, and epigenetics.
Use of conventional pharmaceuticals in unconventional ways to support holistic healing. A good example is the use of low dose naltrexone (LDN) in the treatment of autoimmune disorders, cancer, and a host of other problems.
Develop a patient advocacy program to help navigate the conventional medical and surgical industries, and avoid the associated hazards.
Develop emotional sobriety and intelligence by understanding the key emotional states, why we have them, how to heal and transform shadow emotion states into their utilitarian counterpart, and how to access the higher emotional states which have no shadow counterpart.
Heal the reflexive memory patterns and self sabotage patterns associated with past trauma.
Increase courage, acceptance, and joy in one's life.
Understand and develop more moment to moment ongoing heart resonant frequency.
Expand spiritual consciousness and living.
Identify, develop, and manifest one's gifts, passions and life purpose.
Develop a more graceful and empowering view of Life after Life transition.
Understand, assist, and develop one's natural, ever present healing intelligence.