Certifications
American Board of Surgery,
certified 1982, re-certified 1991
Advanced Trauma Life Support
(ATLS), 1999
American Board of Holistic
Medicine, certified 2000
Reconnective Healing, Levels I, II, 2001
Psych-K basic training, 2005
Advanced Cardiac Life Support
(ACLS), 2008
Pre Hospital Trauma Life Support (PHTLS), 2009
Prior Memberships
American College of Surgeons
Southwestern Surgical Congress
Denver Academy of Surgery
American Holistic Medical Association
International Society for the Study of Subtle Energies and Energy Medicine (ISSSEEM)
Recent and Current Educational Studies

International Conference on Science and Consciousness, Santa Fe, 2005, 2006, 2008
Colorado State EMS Conference, 2007
Tactical Combat Casualty Care (TCCC), Colorado locations, 2009
Conventional and Holistic Health, Science, Consciousness, Spiritual studies, ongoing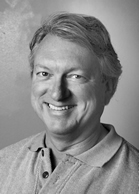 About Dr. John R.M. Day and the Haelan LifeStream Center
Born to physician parents, and the father of a physician, Dr. John Day's lifetime interest in healing and the multidimensional nature of our being began in 1960 when he met Helen Keller. Just 9 years old at the time he understood that Ms. Keller could psychically see, despite her physical blindness. The brief intimate time with Ms.Keller prompted an early curiosity about human intuitive and psychic ability.
His physician mother, the late Dr. Jane Day of Montgomery, Alabama, helped him understand at age 12 that healing comes from within by the action of self accountability and Divine Grace.
College and medical school studies were combined with independent studies of Eastern spiritual paths and cultural healing modalities. As a general and vascular surgeon in Boulder, CO, he developed and integrated the elemental components of the Haelan LifeStream model into his surgical practice as a teaching tool to assist his patients with their life process issues. In 2001 he retired from the surgical work to establish the Haelan LifeStream Center, offering the model on a full time basis. In 2007, he moved the Center to Crestone, CO, a beautiful retreat community located at the foot of the Sangre de Cristo Mountains, just north of the Great Sand Dunes, in the San Luis Valley. This community is well known for embracing sustainability practices, and it is home to numerous spiritual centers from Eastern and Western paths.
In May 2009, the Haelan LifeStream Center moved to reopen in the Grants subdivision of Crestone, and the Center is now established as a live-in retreat for 1 or 2 people who may wish to come to this site for private retreat and enjoy the wonderful amenities and profound natural beauty of Crestone, the Sangre de Cristo Mountains, and the San Luis Valley. Clients who rent the retreat may also work with Dr. Day, as well as other holistic practitioners in Crestone, who are allied with the Center, and provide valuable healing services.
Please refer to the Center and Retreat Page.

Degrees and Professional Practice
Medical Advisor, Natural Instinct Nutrition, www.NaturalInstinctNutrition.com, 2012
Medical Director, Emergency Medical Services, Crestone, CO, 2007-2009
Founded Haelan LifeStream Center, Crestone, CO 2007
Founded Haelan LifeStream Center, Boulder, CO 2001
General and Vascular Surgery practice, 1981-2001, Boulder Medical Center, Boulder, CO
Physician of the Year, 1994, Boulder Medical Center
Chairman, Department of Surgery, 1990-1992, Boulder Community Hospital
Chief Administrative Resident, General Surgery, 1981, University of Maryland Hospital, Baltimore, MD
General Surgery Residency, 1979 -1981, University of Maryland Hospital, Baltimore, MD
General Surgery Residency, 1977-1979, Tulane Division, Charity Hospital of Louisiana, New Orleans, LA
M.D., 1977, Tulane University School of Medicine, New Orleans, LA.
B.S., 1973, Rhodes College, Memphis, TN.


Interviews
Important: In you're using Internet Explorer, it will take longer for the audio to start.