The Haelan LifeStream Center is located on 7 acres of private land in the Crestone subdivision known as the Grants. The domicile rental is offered for clients who come to consult with Dr. Day, and it is also offered as an eco-tourist venue for anyone who wants to visit Crestone and environs.
A brief history of the Baca and Grants will be supplied in the Crestone and Beyond Journal writings so that the reader can understand how this unique community of many diverse spiritual paths and culturally creative inhabitants came to be. The Journal also serves to reveal information about the many excellent local amenities and services, as well as vignettes of what life in Crestone is like.
An enthralling aspect of the Center's location is unobstructed views of the nearby Sangre de Cristo Mountains to the east, with four towering 14,000 foot peaks. Sunrise and moonrise over the Sangre's are spectacular. Views towards the Sand Dunes to the southeast are also met with another grouping of four 14,000 peaks in the Mt. Blanca complex.
Across the San Juan Valley, looking west, are the San Juan Mountains offering other vistas of light and beauty, as well as beautiful sunsets and morning moonsets. The panoramas of light and vista are healing and moving to the spirit.
For a nice view of the Retreat Center and environs from an aerial perspective, please see this short video which was made by renters in June, 2015, using an aerial camera attached to a drone.
The pictures in the website Photo Gallery link show steps of the renovations which were completed in 2012. Click here to see an array of updated pictures of the Center.
The pictures which follow on this page are from 2009, showing early stages of extensive landscape renovations.
The facility is a 1500 square foot energy efficient straw bale dwelling with several associated outbuildings. The living space for clients is an off-grid structure, sustained by passive solar gain, photovoltaic and solar hot water arrays, clean mountain fed well water, a septic system, and organic gardens.
Additional heating energy is supplied by wood fireplaces and efficient propane fireplace heaters, as needed. The local weather here has an average of 330 sunny days per year. On a string of cloudy days renters can learn about and practice energy conservation techniques. Please study the Crestone Weather Center site for local and regional weather conditions. This site is updated every 10 minutes with current conditions and forecasts.
For those traveling by car to Crestone, please be aware of state weather and road conditions at this site.
Outside raised organic growing beds and composting center are present. In addition, a 350 square foot enclosed greenhouse is attached to the east sunroom of the house. A spacious office studio is adjacent to the house, and this serves as the space where consultations with Dr. Day are conducted. The grounds also host a separate small hexagonal casita which Dr. Day uses for bioenergetic healing. The casita may also used for massage work which is arranged with local massage therapists.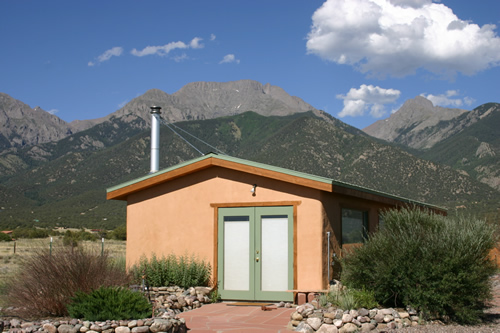 This rental is not intended as a Bed and Breakfast arrangement, but does have an exceptional kitchen for clients' food preparation, some of which can be supplied from the gardens and greenhouse. Venison and elk meat are available, depending on seasonal hunting success, and quantity of supply, as supplied by local hunters.
Clients may also learn about and practice food preparation with a solar oven (www.sunoven.com and www.solarovenchef.blogspot.com ), and cook any type of food with this efficient device. Traditional Southwestern recipes are provided. Food prepared in a solar oven always seems to be improved over food cooked by common conventional methods.
Crestone has an exceptional organic grocery store, as well as a excellent conventional grocery, several good dining venues, and a liquor store. There is also a bank, a post office, and a very good hardware store in the town.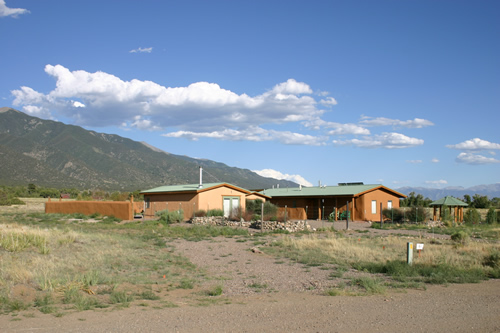 A washing machine is present on premises. Because drying machines use such a large amount of electrical energy, and will deplete the solar batteries, drying is done by sun and air using clothes racks and outside clothes lines.
DVD, VHS, HDTV, and Bose sound players are present. Television channels are not offered. The Retreat offers a good video, music, and educational CD selection. High speed internet is present, as is telephone service. Long distance call charges must be made by calling card. Cell phones usually work well in this area.
Pets are not permitted. Please make arrangements for your pets at your home.
Smoking inside of the dwelling structures is not permitted, but is permissible on the outside stone patio areas.
Comfortable and spacious accommodations are available for one or two adults. Occupancy by more than 2 adults is allowed, and renters will have to be aware of energy conservation techniques if more people are present. Surcharges, as explained below, will apply for occupancy greater than 2 adults.
Occupancy by more than 2 renters is not allowed for long term rentals, or stays longer than 7 nights.
Rental Rates
The rental rates are as follows:
The daily rate is $126 to $144 per night, depending on the month and season.
The weekly rate is reduced somewhat per night for 7 days, depending on the season.
Peak season is May through October for the higher rates. Please see the Airbnb calendar (Booking Option #1 below) for more exact rates.
The Retreat Center is not rented on a monthly basis.
Additional pull out sofa sleeping beds are available for a maximum occupancy of 3 people. An occupancy surcharge of $45 per person will apply for occupancy greater than 2 adults.
Booking Reservations:
Renters may reserve accommodations at the HLC&R by booking reservations through Airbnb, Inc. You can go directly to the Exquiste Straw Bale Rental page of this service to book your reservation.
Guests will be accessed for damages, as may be necessary.
Normal Check-in is 3–5 PM, and check-out is 9-11 AM.
Different arrival and departure arrangements can be made with Dr. Day for after hours arrival or departure at any time of day.