The Haelan LifeStream Center and Retreat is located in Crestone, Colorado.
Haelan LifeStream Center
Post Office Box 395 (US Postal Service only)…anything you mail to me by way of the USPS must be addressed to this P.O. Box address. The Post Office here will not accept mailings addressed to the Whispering Winds office street address.
1317 Whispering Winds Trail (Office, Consultations, FedEx, and UPS)
Crestone, Colorado 81131
Phone: 719.256.5898
Fax: 719.256.5894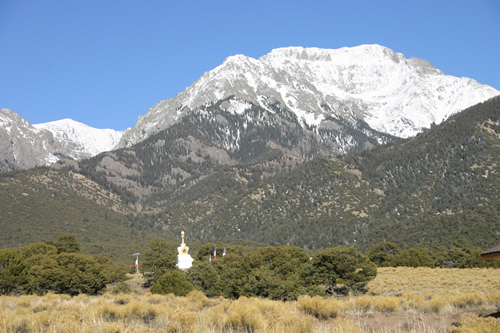 Directions
From Boulder/Denver/Colorado Springs
Use mapquest.com to get to U.S. Highway 285 and go south, past Salida, and over Poncha Pass. Continue south on Hwy. 285 past the town of Villa Grove. A few miles south of Villa Grove look for Colorado State Highway 17 South, to the Great Sand Dunes. Proceed south on Hwy. 17, to the town of Moffat, and on the south side of this small town look for a small green sign on the right hand side of the highway marked "Crestone."
Turn left (east) here onto County Road T. Drive Road T about 12 miles until you pass the Christian church on the left hand side of the road. Within a few hundred yards at the big white "Baca Grande" sign on your right, turn right onto Camino Baca Grande. Continue south on Camino Baca Grande for approximately 1.5 miles and take a right (west) on Badger Road.
Proceed 1.0 mile to Wagon Wheel Road. At the stop sign continue straight through on Badger Road 0.5 miles to Spanish Creek Trail. (After you cross Wagon Wheel Road you are on a dirt road.) At the yield sign proceed straight through 0.1 miles to Whispering Winds Trail, and turn left. The Retreat Center is the complex of buildings seen in this cul de sac.
From Albuquerque/Santa Fe/Taos/Alamosa
Use mapquest.com to get to Highway 17. Take Highway 17 north, past Alamosa. Proceed north through the towns of Mosca and Hooper, and on north on Highway 17 to the town of Moffat. Just before the town of Moffat, a sign on the right hand side of the highway marked "Crestone" directs you to turn right (east) onto Country Road T, toward Crestone. Follow the directions given above.